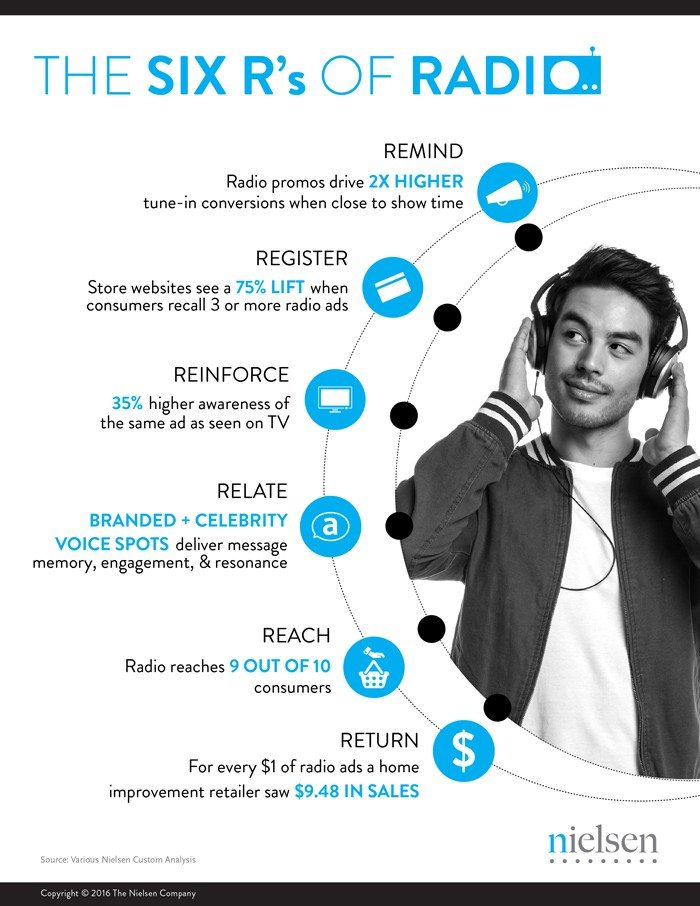 6 R's Of Radio Advertising Success

Remind, Register, Reinforce, Relate, Reach and Return.
Remind: Radio's recency delivers
Radio reminds consumers to take action closest to the point of purchase or action. Nielsen conducted a study with a major TV network that used radio advertising on game-day. Those ads more than doubled the tune-in rate within 90 minutes of the program.
Register: Radio is a powerful digital and purchase driver
Radio connects and leads to greatr online research and online purchases. Nielsen found that people exposed to a radio ad three or more times were more likely to do online research and take action to purchase.
Reinforce: Radio elevates the media plan
Radio reinforces advertising messages received on other media platforms. Those who heard a radio ad had a significantly higher ad recall of the campaign on other media platforms, Nielsen says. A consumer exposed to radio ads had a 35% higher awareness of the same ad on TV compared to those who were not exposed.
Relate: Branding spots and radio personalities voice ads that power results
Branded and personality-voiced radio spots relate with consumers. When used in combination, they increase message memory, engagement and resonance. A Nielsen Consumer Neuroscience study found branded spots without radio personality voices activated people's memory. Radio personality voiced advertising increased engagement and message resonance.
Reach: AM/FM radio connects with 93% of American adults weekly
Advertisers want their ads to reach the intended audience. Radio reaches more Americans than any other platform, with 93% 18+ using radio weekly—and that includes Millennials.
Return: Radio advertising positively impacts bottom line sales
Radio advertising positively impacts campaign results and bottom line sales. Nielsen found that on average, for every $1 spent in radio advertising, advertisers see $10 in sales.